In Hermès & LePrix, You Can Trust
So, you've decided to invest in a Hermès bag…congrats! While it's easy to decide between the Birkin, Kelly, Constance, or Evelyne, you also need to consider when and where you'll be toting this bag.
If you're looking for an everyday tote, obviously go for something sturdy and spacious. But if you'd rather wow people at a gala, choose a mini design crafted from exquisite, exotic skins.
Well, lucky for you, we've got hundreds of Hermès bags in all shapes, sizes, materials, and colors of the rainbow. You're also #blessed because our store partners authenticate the bags for you, but there are people like me who work behind the scenes to create blogs and guides to help you along the way.
Below, you'll find a helpful guide explaining the various types of leathers and exotic skins used by Hermès, along with some additional info on durability, texture, and more, created to help you make the best choice for your investment.
Hermès Leathers, Fabrics & Exotics
Hermes bags are crafted out of the finest and most luxurious leathers and exotic skins. From alligator, water buffalo, and ostrich, to Epsom, Togo, and Swift leathers, let's explore all the unique and exquisite options available once you're ready to make your first Hermès bag purchase.
ARDENNES
Ultra-sturdy, durable, and waterproof, it's the perfect leather for everyday wear. It'll hold its shape for a very long time due to the thick grain.



BARENIA
The Barenia was the first leather used to create saddles. This waterproof, neutral-hued leather features a smooth finish which easily absorbs oil onto the skin which creates a patina over time.
BOX CALF
Box Calf is a fine-grain leather that's commonly used in Hermes bags. Due to its sturdiness, it easily retains its shape, but it's also a delicate leather that easily scuffs and scratches. If it gets wet, it might develop blisters.
BUFFALO
Crafted from the hide of a water buffalo, this pebbled leather pebbled sometimes results in a colorful, spotted look. It's incredibly durable and water-resistant, and particularly easy to clean and buff out scratches.

CANVAS
This ultra-durable, easy-to-clean fabric is treated and combined with several leathers to create one of the strongest exteriors out there. Want a bag that'll withstand whatever Mother Nature has in store? Go with canvas or a canvas blend.
CHAMONIX
Attn: whomever lives in a rainy climate…Chamonix leather cannot handle the rain and will blister over time if gets wet. It's a very matte leather that almost looks like plastic, but despite its issues with water, it's quite durable and stands up against scratches. It's a great choice for an everyday bag.
CHEVRE DE COROMANDEL
Made from male mountain goats, this expensive leather is iridescent and features slight graining. Despite being lightweight and ultra-soft, it's very tough and difficult to scratch or blemish.
CHEVRE MYSORE
Another leather made from goat skin, this one features a larger grain, but it's lightweight and scratch resistant.
CLEMENCE
This matte, smooth, even-grained leather is more commonly seen in slouchier handbags, like the Birkin. Be careful though because it's a more delicate leather, it will develop blisters if it gets wet and it might crack around the edges if it's not properly moisturized.

COURCHEVEL
This ultra-lightweight, grainy leather is like the Epsom, but glossier and darker at the top. It's easy to clean and that makes it perfect for an everyday bag.
COUNTRY LEATHER
From the hide of a female calf, this leather is known for its firmness and durability. It's mainly used for the Garden Party collection.
DERMA
Created from a male calf, this ultra-smooth, soft leather features a matte texture. Despite being very delicate, it can be crafted into almost any shape or design.

DOBLIS SUEDE
A velvety leather that's prone to scuffing, scratches, dirt, color fading and tears. Cannot get wet and the leather will slouch over time. All in all, not great for an everyday bag, but perfect for very special occasions.
EPSOM
The Epsom's leather is embossed, which gives it a luminous appearance and this surface allows it to be waterproof. A bag made of this leather will hold its shape over time...plus, it's lightweight, easy to clean, and less likely to show scratches. It's a great choice for travelers.
ETOILE
Made of linen, this unique design is incredibly strong and durable, and can last for many years without any noticeable flaws…but it stains easily.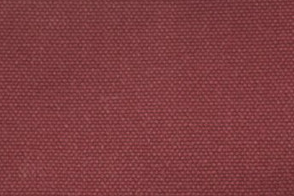 EVERCALF
Similar in appearance to the Box Calf, but it's buttery soft and doesn't easily scratch or scuff.
EVERGRAIN
The embossed version of the Evercalf is ultra-soft to the touch—however, due to its very fine grain, it's prone to scratches. Luckily, they're easily removed.
FJORD
Fjord has a luxurious, matte appearance and a velvety feel. It's a heavier leather and totally waterproof, which makes it perfect for larger bags since it's super sturdy and can handle whatever Mother Nature blows its way.
GRAIN D'H CALFSKIN
Created from a male calf, this strong leather is finely grained which gives it a soft, textured feel and adds protection against scratches and damage.
LIZARD
This ultra-delicate, exotic leather is very valuable, rare, and should be saved for special occasions. If not cared for properly, you might dry it out and crack the scales. It needs protection from water and tarnishing—and best suited for smaller accessories.
MATTE ALLIGATOR
From alligators farmed in Florida, this very delicate and expensive leather costs more than a shiny one. Ironically enough, you're not supposed to get it wet.
MATTE NILOTICUS CROCODILE
Created from crocs in the Nile region of Zimbabwe, the larger scales on this skin makes it the ultimate fashion accessory, but water can cause marks and permanent damage.
MATTE POROSUS CROCODILLE
Crafted from saltwater crocodiles in Australia and Southeast Asia, the Matte Porosus Crocodile is Hermes' priciest and most popular skin. And that's why you should take extra care of this baby and keep it away from water to avoid marks and fading.
NEGONDA
This male calf leather is easily identified by its large grains and medium hardness. It's ideal for tote bags because it's tough, stain-resistant and strong enough to hold your bulky items.
NUBUCK (VELVET)
This suede leather is coated and trimmed to a velvety finish. Sometimes it's used on bags, but more often found on accessories.
OSTRICH
Easily identified by the pores (or bumps) on the skin, it darkens when it touches human skin and lightens when it's exposed to light. It's very durable and can be cleaned and wiped down to remove stains and scratches.
SHINY ALLIGATOR
Ultra-delicate with a shiny finish, this luxurious, gorgeous skin should be kept away from water.
SHINY CROCODILE NILOTICUS
Also originating from the Nile region, the shiny version of the Crocodile Niloticus is treated to hours of buffing for a glossy finish. Almost patent-like, the glistening skin makes this the perfect accessory for a night out on the town.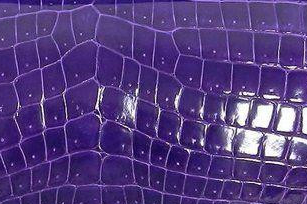 SHINY CROCODILE POROSUS
The skin of this crocodile is given its shiny luster due to hours of continuous buffing. Just like the others, keep it away from water.
SOMBRERO
A buttery soft and smooth calf leather with a matte finish that can easily scratch.
SWIFT
The Swift leather is a great choice for those who'd prefer a bag in a vivid hue. Due to its fine grain construction, it's very soft and absorbs colors splendidly! One of the most popular leathers for the bags.
TADELAKT
Tadelakt features a smooth and glossy finish. It's very popular due to its silky texture and lack of visible grains, but the sleekness also leaves it susceptible to scratches and blisters.
TOGO
The Togo is one of the most popular leathers. It's a grainy, so it's easier to maintain, can hide scratches better and it's very sturdy, making it perfect for larger bags designed to tote heavier items.
TROIKA
Troika leather comes from an unborn male calf that hasn't been processed or dyed. Very rare, it's desired mostly for its smooth texture and lustrous coat.
VACHE LIEGEE
This stiff and structured cowhide features a natural grain and subtle luster. One of the thickest, sturdiest, and most durable Hermes leathers, it's a no-brainer of a choice for an everyday bag.
VACHE NATURELLE
This smooth and untreated cowhide leather is delicate and darkens over time and with use.
VEAU RODEO
This beautiful calfskin leather is designed with small grains and deep veins, which makes it completely scratch resistant and perfect for everyday wear.
VEAU SIKKIM
This ultra-smooth, buttery soft leather has little to no grain and minimal stiffness, making it the perfect skin for a slouchy design.


Shop all Hermès bags at LePrix.