"Luxury is a dream and revealing too much of what goes on behind the scenes would spoil the magic," a Representative for the House of Goyard
Have you spotted a Neverfull-style tote bag with a chevron logo in a very non-Louis Vuitton color? Well, that's because they're Goyard Bags with their signature, multi-colored chevron design. If you're wondering why you haven't seen many around, it's because authentic Goyard goods are quite scarce. Not as difficult as getting your name on the waitlist for a new Birkin, but since Goyard doesn't have an online shop and there are only about two dozen boutiques worldwide, scoring a new and authentic Goyard product can be a bit tricky, unless you'd like to personalize and customize your design. Otherwise, your best bet is to go the designer resale route.
Lucky for you, LePrix covets and collects brand new, pre-loved and vintage Goyard designs from over 600 of the world's top designer resale shops. From shopping totes to top-handle bags, and wallets to suitcases, we've got whatever your heart desires—and we won't put you on a waitlist.
The Exclusivity Factor
Let's be honest, carrying or wearing an item that everyone else has greatly waters down the exclusivity factor of a brand and that's why Goyard's under-the-radar reputation is what makes this brand so attractive to its high-society clientele..
So, I'll bet you thought Louis Vuitton was one of the oldest luxury brands? Nope, Goyard has them beat by just about a year. Founded in Paris in 1853, Goyard is the world's oldest leather goods maker that's still in business today. Goyard's signature interlocking Y print—a symbol of the family's history as log-drivers—is subtle yet striking. The majority of the Goyard products are crafted from Goyardine, which is their signature coated canvas fabric.
To remain exclusive, Goyard kept the business in the family until 1998 when it was purchased by Goyard aficionado, Jean Michel Signoles, who set out to reinvent the brand. He built workshops in France and even opened a few retail stores around the world. But that doesn't mean you can just walk into a Goyard store and walk out with one of their coveted designs…nope, you'll probably be waitlisted until you're been deemed worthy of ownership!
Get Your Goyard on @ LePrix!
No reason to be bummed over Goyard's exclusiveness. You've got two options...the first is to personalize and customize an item on their website and hope they respond to your request OR buy a Goyard product on LePrix! So, whether you're on the hunt for a Goyard suitcase, wallet, pouch, tote bag or clutch, we've got it waiting for you! Check us out.
When you just need the essentials and an evening gown isn't involved, Goyard's Monte Carlo Clutch makes a casual cool statement without weighing you down. Crafted in signature Goyardine with a fold-over closure, adjustable strap and studded wood panel, it's the perfect lightweight tote for your phone, keys and ID.
Travel like royalty with the Majordome suitcase, crafted in signature Goyardine canvas, featuring palladium fittings, a lock, keys, interior pockets, and wrap-around zip closure.


Whether you're searching for a stylish cosmetics pouch, an iPhone case or a grab-and-go bag, Goyard's Senat GM Pouch is THE ONE. With a convenient top-zip closure and crafted in a rectangular-shaped design, Goyardine coated-canvas essential opens to reveal an eye-catching yellow interior which is a signature of the brand.
A small accessory can make a huge impact when you've got a Goyard wallet on your hands (and in your Saint-Louis Tote). Crafted in signature Goyardine, when you whip out this wallet to make a purchase, you'll also be making a statement.
Inspired by the removable pouch that accompanies the Saint-Louis Tote, this lightweight crossbody design is perfect for someone who's always on the go. Broken into three different compartments with card slots, an internal zip pocket, a detachable shoulder strap and top-snap closure, this signature Goyardine-crafted must-have also doubles as a clutch.
This thoroughly modern Goyard Comores tote is the perfect day-to-night bag. Crafted in the signature Goyardine coated canvas, this chic tote features dual-flat leather handles with buckle detailing, leather trim, protective base studs and silver-tone hardware.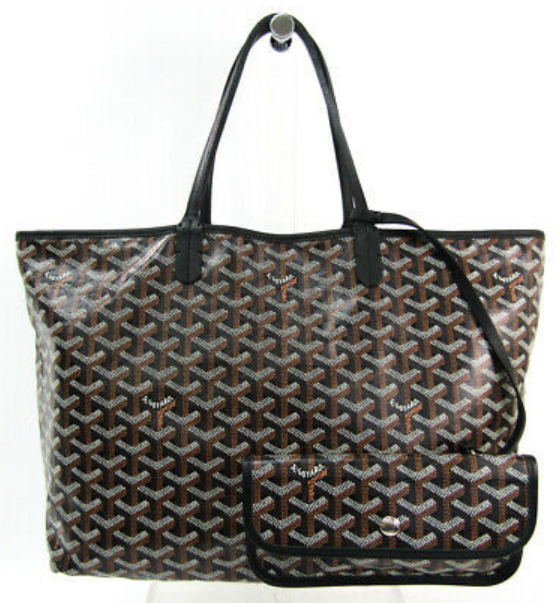 The Saint-Louis tote is a bona fide classic and the star of the Goyard show. The kind of timeless staple you continually see on the street. With its open top, dual-rolled handles, inner pocket and matching detachable pouch, it's no wonder you see this lightweight carryall on the shoulders of people everywhere!
Reminiscent of Goyard's trunks, featuring a structured body, wood trim and a carved, polished wooden top handle, this timeless design is draped in Goyard's signature Goyardine coated canvas.
Shop all Goyard Bags at LePrix.